2021 Virtual State Games of Michigan – Are Open !!
The State Games of Michigan World Class Tae Kwon Do Tournament will be held virtually for 2021.
One video will include basics and form.
   -Basics –  3 different techniques of the participants choice. 
   -Each individual technique done 3 times forward and with a turn around, 18 repetitions in all.  
   -Combining a kick and a hand technique is acceptable, e.g. middle punch, knife strike, side kick.  
   -Form – any one form up to the current belt level. 
   -Include name and belt rank with video.
Deadline to register and submit video: 
Thursday, June 24 at 11:59 PM

05/22/2021 – Posted by Master Ramos
Tae Park Tae Kwon Do World Class Virtual 2020 Tournament
Tournament date is 11-14-2020
About the registration: On the homepage is the schedule of events, rules and a message indicating the cost which will be $20 for one event and $5 for each additional event.  The participant will register for their first event and at the end will have an option to revisit the events page and pick another event.  Each event will be added to their cart and at checkout will see the total cost 
Videos: When a participant selects an event that is video they will receive an email with a link to upload their video and use the same link if they have registered for more than one event.  They will be required to include their name, the event and belt level.  We will have a separate link to access all the videos.  It will have filters for us to sort by event and belt level.  This will help us locate and sort videos when judging.
Live Registration: This option is no different than when someone registered in the past. 
The following is a link to the landing page, which is under construction at this time.
Click here to go to the landing page
10/08/2020 – Posted by Master Eckert
2020 Virtual State Games of Michigan – Are Open !!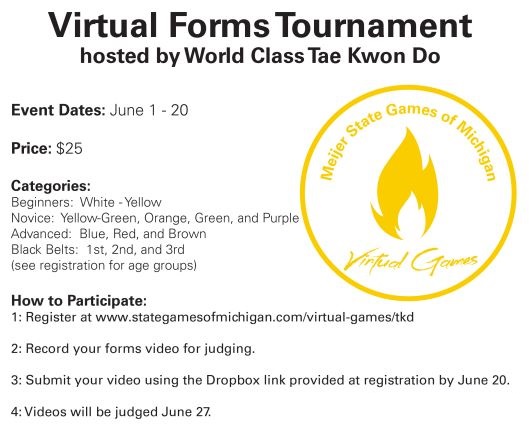 06/07/20 – Posted by Master Ramos
2018 Tae Park-WCTKD Tournament & Testing
Friday, November 9, 2018 – National Testing Photos
As tradition dictates, Tae Park Tae Kwon Do held its annual black belt testing on Friday November 9 at the Comstock Park venue this year. This testing is the second part of the promotion for all 1st, 2nd, and 3rd Dan black belts. They are required to complete basic techniques, form, sparring and board breaking. The test is broken up into 3 ring, with Master instructors scoring the candidates. Congratulations to all of the new black belts! The event was conducted by Senior Master Peter May and his assistant Ms. Yvette Simon.
Saturday, November 10, 2018 – Tournament Photos
The tournament registration opened at 7:00 AM for the 455 events that were hosted at the event. The competitors were lined by 8:45 andfollowed by the Opening Ceremonies. This year we welcomed a total of 5 new Master promotions. Three new 5th Dans: Master Lemon Williams, Master Betty Henderson and Master Larry Feuerstein. We also received two new 8th Dans: Grand Master Mark Good and Grand Master Lynn Bernard. Following that, the tournament was under way by 10:30, which included forms, one step, kicking, breaking, sparring and our Grand Champion events. The group of volunteers worked very hard and was able to complete the event by 3:30 with only 8 rings, which did include a lunch break and a demonstration. As always, this was a great event and we look forward to it again next year.   We are slated for November 8-9, 2019!!
Posted 10/03/2016
Tae Park Tae Kwon Do
World Class Championships
On November 6, 2015 World Class Tae Kwon Do hosted the Tae Park Taekwondo Black Belt testing followed on the 7th by the World Class Championships. The events were held at Grand Rapids Community College Ford Fieldhouse in downtown Grand Rapids.
On Friday evening, 43 members of Tae Park TKD did their final phase of black belt testing for levels of black belt 1-3 Dan. Senior Master William Golombisky and his support staff organized the testing which ended with each Institute under the umbrella of Tae Park TKD awarding the new black belts to the test candidates with their certificates. The event was followed by a Masters meeting held at the Fold Fieldhouse in preparation for the following days tournament.
On Saturday the tournament was kicked off by Tournament Director Master Susan Lofquist and greetings from Grand Master Rick Warren. Very special guests at this years event were:
Grand Master Nam Souk Kim 9th Dan (California)
Grand Master Mung Ho Lee 8th Dan (Poland)
Master Rick Grimm (student of GM Nam Souk Kim) (Kansas)
The event had 453 event entries, a fantastic showing, surpassing last years event!
A new event 'basic kicking' was introduced and directed by Master Lemon Williams II with 35 competitors entering the event. Other events that were offered were Board Breaking directed by Masters Troy Eckert and Larry Arthur. Traditional events of forms, one-step sparring and sparring were also offered.
As an opportunity to be 'The Best' WCTKD offers the events of Grand Champion (18 and over) and Junior Grand Champion (15-17) in both male and female divisions. To win these coveted events you must collect the most cumulative points in the three events of 1. Breaking 2. Forms and 3. Sparring. This years event was dominated by Lewis Institute of Tae Park Taekwondo Mid South Taekwondo Association participants who took home Grand Champion Male (Mr. Sebastian Alonzo-Warmath Institute) and both male and female Junior Grand Champion (Ms. Kaitlyn Howard-King Institute and Mr. William Forlifer-King Institute). New York's Nicole O'Grady-Good Institute, took home Grand Champion-female.
Competitors traveled from across the US to participate from the states of: Tennessee, Kentucky, Alabama, Ohio, New York, Kansas and of course all over Michigan.
Plans are already underway for November '2016' .
Thank you to all who attended participated and worked so hard to make this event a huge success. Also Thank you to Jennifer Eckert for take so many of the photos for us.
Master Susan Lofquist
Tae Park TKD National -WCTKD Tournament Director
Good Institute Student receives the 2015 Male Athlete of the Year award"
Please join me with Junior Grand Master Mark Good in congratulating Mike Droste on being awarded the "2015 (Male) Athlete of the Year" from this year's Meijer State Games of Michigan! Great job Mike, keep up the hard work.
World Class Tae Kwon Do – Facebook posting
State Games of Michigan Article
Posted 12/23/2015
Tournament Update
Announcing the November 7, 2015
World Class Tae Kwon Do Championships
Ford Fieldhouse-Grand Rapids Community College
Grand Rapids, Michigan
This years event is shaping up to be even more exciting than previous as we offer new events along with the traditional.
Click here to register for the tournament.
Area hotels are offering discounted rates, Click here to email/contact Mr. Erik Veen for details.
The goal is to exceed last years '437' registrants! We are Michigans Premier Traditional Tae Kwon Do Event!
Tournament open to 'Tae Park Taekwondo' members only!!
Master Susan Lofquist
Tae Park TKD National – WCTKD Tournament Director
Posted 10/3/2015
Tournament Update
On-line Tournament Registration Is Open!
This is the link that will be used to access on-line registration for the 2015 WCTKD tournament.
A few changes:
All rules are under one document with the exception of Grand Champion on the home page
Team form competition will only be in pairs
New event – Basic kicking
Click here to register for the tournament.
Posted 09/27/2015
Tournament UpdateReferee Training
In preparation for the upcoming 2015 World Class Tae Park Tournament, Master Harshbarger and I would like to communicate a couple referee training opportunities.
For Central and Eastern MI Institutes:
Date: October 17th, 2015
Time: 2:00p-4:00p
Location: Tae Park TKD Central Studio – Jackson Y-Center 127 W. Wesley St. Jackson, MI 49201
For Northern and Western MI Institutes:
Date: October 24th, 2015
Time: 1:00p-4:00p
Location: Orchard Hill Reformed Church 1465 3 Mile Rd. NW Grand Rapids, MI 49544
Referee Training Agenda:
Review current rules for the 2015 World Class Tae Park Taekwondo Tournament (Traditional & Grand Champion) (Revised for 2015)
Review and practice proper WTF hand commands for form, breaking, basic kicking referees
Review and practice proper WTF hand commands for sparring referees. Includes: starting, breaking, continuing and stopping a match. How to issue penalties and award and announce